Aquatic life is a fascinating subject to study, especially the fish that live in water. However, keeping them can be pretty expensive and time-consuming. If you find yourself in love with aquatic life but do not want to spend thousands of dollars on an aquarium, I have 24 DIY fish tank projects that will allow you to keep your beloved little fish as pets without breaking the bank!
DIY Fish Tank Projects
If you have ever dreamed of having fish in your house, you'll love this list of DIY fish tank projects. There is something for everyone, from the most effortless designs for beginners to more intricate and challenging ones for the advanced DIY enthusiast. You can decorate your space with a beautiful aquarium by building one yourself. The following designs are fresh and modern, with different variations that will make your aquarium stand out from all the rest.
Building your fish tank is a fun and affordable project that you can do with the whole family. DIY fish tank projects are easy to assemble and cheap, so you won't have to rob a bank to build any of these tanks. There are many different types of DIY fish tanks to choose from – a giant aquarium, under-the-bed aquarium, window box, or tabletop aquarium, to name a few. Just select your favorite and start building!
DIY Glass Aquarium
A DIY glass aquarium can be an excellent project for a beginner. It is a fun way to display your fish and create an eye-popping focal point for your home or office. Making a glass aquarium is challenging but not impossible if you follow the steps in this guide, handle the glass carefully, and use the right tools when cutting it. This DIY guide will walk you through the process of making a successful glass aquarium so that you can enjoy watching your fish swim around inside of it.
How To Build An Aquarium At Home
An aquarium is a perfect home for fish; beautiful to look at and can be used to decorate the living room or house with an aura of tranquility. It can also be a great source of entertainment, especially if you are into fish keeping. To build an aquarium at home is not hard at all. In this guide, you will learn how exactly to create one by yourself and make it look perfectly natural in minutes. If you wish to experience the beauty of aquatic life and have fish in your home, you can build one quickly. This guide will help you plan, design, and develop your functional and beautiful aquarium.
DIY iMac Fish Tank
If you want to convert the wasted space under your iMac into a stunning fish aquarium, this project is undoubtedly for you. This DIY iMac fish tank uses two acrylic sheets of 3mm and 5mm thickness, costing approximately $100. The upper transparent acrylic sheet should be at least 22 inches long to fit on the surface of your iMac computer. The other one should be at least 19 inches long to fit inside the former one creating a tank. We will give you step-by-step guidelines about how everything is done and how much that costs to make the whole process easier for you.
DIY Fish Tank
Homemade aquariums have become a popular hobby for many people. If you're one of them and want to know how easy a DIY fish tank can be, read on. You need a plastic bottle of any kind or several if you're making an aquarium with more than one inhabitant. Divide the bottle into three sections (top, middle, and bottom), cut out each area, and remove the central part. Join both ends of each section with some glue or tape and fill your DIY fish tank with water and plants or any other living thing you want.
DIY Plastic Bottle Fish Tank
It's a DIY plastic bottle fish tank that is easy to make, cheap and sturdy. It would help if you had 3 plastic bottles, glue, and scissors to make this. You can use any liquid for other purposes like milk or water in these bottles as it will not affect the fish. The best way to attach these bottles is by using hot glue to avoid leaks, but if you have any other experience with bonding plastics, please do share with us as we would love to learn more.
DIY Aquarium
This simple aquarium project allows you to use your creativity to give life to your lovely fish. You can make a simple but effective aquarium for your pet using a box made of cardboard. Making your decoration would be easy and fun with this DIY Aquarium. Mixing the cement and dipping clothes inside to mold a cardboard box sounds easy. You will like the outcome of your project.
Homemade Fish Tank
This simple and inexpensive DIY homemade fish tank gives your fish the home they deserve. You can construct a beautiful new home for your fish with some tools and plastic bottles! Cutting a plastic bottle at home might sound scary, but you have no reason to worry about this video. It will teach you how to use simple kitchen tools and cheap materials to create an unusual fish tank for your fish.
DIY Plastic Bin Fish Tank Setup
If you think fish tanks are just for decoration and aren't something you want to spend on, this video will change your mind. This guy just made a DIY plastic bin fish tank set up by himself. Watch how he assembles the tank, places each item in its proper place and makes the place look like an aquatic paradise. Assemble your fish tank from scratch using nothing but a few materials from your local store. Once you have assembled it, you can place marine flora and fauna inside the aquarium.
DIY Mini Aquarium
This DIY mini aquarium is a perfect gift for children that love fish. It's easy to make and can be done in about 15 minutes. Enjoy watching your aquarium's colorful fish swimming between your handmade seashell walls! This DIY mini aquarium comprises a plastic container, seashells, aquatic plants, and gemstones. It would help place the seashells inside the container and fill it with fresh water. It's that easy!
DIY Cardboard Fish Tank
Creating a cardboard fish tank is a fun and exciting alternative to traditional aquariums. The DIY project can be completed in under an hour and offers a unique look to an underwater ecosystem. After cutting the box into pieces for the craft, you need something to support the aquarium from the back to make it sturdy. You can use old corrugated boxes or any cardboard box that will work well with the fish you want to put in it.
DIY Fish Tank
This DIY fish tank is an excellent alternative for those whose budget does not allow them to purchase an expensive aquarium. It uses the Crayola model magic, construction paper, and washable paint. You can create any design you like with this DIY fish tank, as long as you have patience and creativity. Consider adding little accessories to make your aquarium more interesting. Follow the steps in this easy-to-follow tutorial, and you'll soon have your colorful fish tank made from construction paper and model magic!
How To Setup A Fish Tank
This is the guide if you have always wanted to have an aquarium. The creator of the tank discusses different resources (such as materials and equipment) that you can use to make one. With the help of these instructions, it will be easier to construct your home aquarium. The creator of the fish tank used all of these to make it perfect. We will also get the same result by following his steps and using the same materials.
How To Make A Fish Tank Using A Plastic Bottle
This video shows how to make a fish tank by using plastic bottles. It focuses on making holes in the bottles and then joining them together to form a complete structure. First, the instructor shows how to make holes in two bottles. Then he shows how to glue them closed, fill them up with water, and watch their balance while sitting on the table. At the end of this video, he fills all four bottles up with water and explains that there are some fish inside these fish tanks.
How To Build A Glass Aquarium
Get those tools and have fun building your glass aquarium. Start by cleaning the glass, then use painter's tape to cover the areas you don't want to be painted. Place down a couple of layers and let it dry completely between each layer. After the tape is completely dry, spray paint each section one by one and let it dry again. The instructor also told us that we could use electrical tape, but he decided to select painter's tape because it can be easily ripped off after drying.
How To Make A 2.5 Feet Aquarium
A 2.5 feet aquarium is very effective, so you need to ensure that you have everything you need to assemble it. First, you need to purchase a 2.5 feet glass tank and some items to help you quickly put it together. These include silicone and white adhesive tape, making the tank visible and neat. Both materials are simple and can be easily removed without leaving any residues on your walls or aquarium.
How To Make Your Aquarium
This aquarium looks good and works perfectly. It has the best price for a 20-gallon aquarium with what you usually get: a tank, light, and hood. But in this case, you will also get a custom-built stand, cooling system, filtration, and background. Professionals make this, so they know precisely how to make a beautiful and functional aquarium. This tutorial covers everything you need to know about creating your aquarium to have your very own fish tank made by hand.
How To Make A Multi-Level Fish Tank
In this video, the creator demonstrates making a multi-level fish tank. The first step is deciding what kind of aquarium you want to build. He agreed that it should be cylindrical and have a glass lid. First, draw the plan on paper and cut the glass into equal-sized pieces. Insert silicon around each piece to stick together firmly while inserting them into their respective places. Then drill holes at the top where you can further attach them with screws or glue.
Monster Fish Tank DIY
This monstrous masterpiece will make all your little monster fish feel safe and comfortable, just like home. The tank has an excellent standing structure, which means it does not require any frames for support. There are tons of great features, including a nice little cave filled with fake plants and even a tiny area where blue lights illuminate at night, giving off a beautiful glow that helps bring out your fish's color (you can turn off the blue light function).
DIY Fish Aquarium On A Budget
The aquarium project is a creative way to take care of your fish. The materials used are cheap and can be reused easily. This DIY project will help you build a DIY fish tank without investing too much time. All you have to do is follow the guide carefully. The aquarium is made of glass jars, foam, and water plants. You can put different types of fish in the tank, such as piranha, mollies, goldfish, or any other kind of small fish you might have at home.
DIY Robotic Fish Tank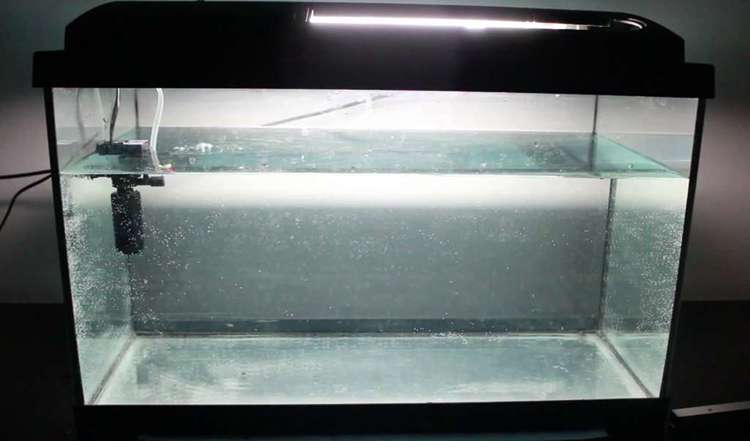 The DIY Robotic Fish Tank is a great choice to make your home more beautiful and classy. It's a robot that takes care of your fish, ensuring healthy and happiness. The mode, design and LED light make it so unique. The integration of the LED light doesn't require a heater. This tank has personality with its remote control and photosensors, making it look fabulous! Once assembled, you'll find no need for a heater with this self-cleaning fish tank. The autocycle cleaning system included in the kit will ensure that your fish have a clean environment.
DIY TV Fish Tank
This DIY TV Fish Tank is a fun and creative way to upcycle your old tv frame, creating a stylish piece of furniture that will look great in any room. As long as your TV is powered off, this project can be done safely with minimal risk of shock or injury. This fun project turns a discarded television into an aquarium, complete with colorful fish and plenty of room for them to swim. It's not something you can easily buy from a store either - this is truly a DIY project.
DIY Fish Tank Coffee Table
This DIY fish tank coffee table is a perfect addition to your living room. The aquarium and the table are integrated perfectly into one piece of furniture. The project is not only budget-friendly but also easy and fun to do. You need an empty coffee table and some PVC pipes, panes of glass, and sand. The result is a unique fish tank with a great aquascape.
How To Build A TV Fish Tank
Most people have sizeable CRT TV consoles in their houses or apartment. But, they don't know what to do with the old CRT TV console once they buy a new flat-screen television. One solution is to throw the old console out, but what if we tell you that there is something else you can do with it? In this article, you will learn how to build a fantastic aquarium that can add a bit of life, fun, and beauty to your home.
DIY Fish Tank
Our DIY Fish Tank is the perfect project for a budding fish enthusiast. Our aquarium will be up and running with the included instructions and diagrams! Laying the tank on its side while assembling it reduces the risk of glass breakage, so building your fish tank is easy and fun. The glass walls are thick and transparent, making them ideal for showcasing your fish and aquatic plants on display.