Want a DIY window treatment that's easy on the eyes? Learn how to make stained glass panels like a pro. With this all-access pass, you'll get tips on selecting materials and tools, cutting glass channels properly, assembling them into panels, and then hanging them up. Plus, you'll learn helpful techniques like adding light to the project and sealing it for protection against water and the elements. In less than an hour, you'll be able to create a unique piece of art for your windows or doorways. Inspired by the beautiful, unique, and textured glass that the masters of stained glass created in the medieval era, these stained glass methods will help you create your one-of-a-kind masterpiece. Stained glass is an art form that you can take home and display in your living room, dining room, or anywhere else you want to add a bit of color and flair.
Stained glass is a plebeian art medium that's thousands of years old. It continues to be popular as an art medium today because it allows you to create intricate patterns and designs that you could never achieve with any other technique. Create works of art using glass and the elements of sunlight, minerals, and colored glass! Discover how easy it is to complete stunning projects that put you in touch with your inner artist. This article shows 16 different methods for creating stunning stained glass art at home, from simple to advanced, using popular paints and dyes and classes, fiber arts, collage paper, and more. These are all fun DIY projects you can easily make on your own.
Here's a look at these 16 DIY stained glass methods you can use to make your own beautiful windows.
You Can See: 10 DIY Window Box Plans
What is Stained Glass?
Stained glass is a type of art that uses colored pieces of glass to create designs and images. The glass is cut into shapes and then arranged together with lead or copper foil to form pictures, patterns, or text. The colors are often created by mixing powdered metals into the molten glass while it's still hot.
You can DIY stained glass methods.
All you need is a few simple tools and a good idea of what you want to make.
Here are some of the most common ways to make stained glass:
1. Stenciling - Use stencils to create patterns on the glass that you want to cover with leaded solder.
2. Hand-painting - Paint the backside of your glass with a paintbrush, or use spray paint if you prefer. This method is especially useful for creating large pieces of art or murals that require a lot of detail in their design.
3. Grinding - If you don't have access to a glass grinder at home or work, take your piece to one and have them grind it down into smaller pieces so they can be soldered together easily later on down the road!
Authentic Faux Stained Window
Discover an easy way to embellish your windows and give them a decorative touch with simple fabric and paint. This DIY stained glass project transforms your windows into stunning works of art, adds light, and brightens up any room. These easy-to-DIY stained glass windows are cheap, simple, and fun to add color to your home. This craft is perfect for kids who want to create something in their rooms that they'll be proud of. This is a pretty easy project that anyone can do, regardless of skill level. Paint any window frame areas with your favorite color and add shutters and curtains to match. Hang a wreath or curtain rod above your faux stained glass window.
DIY Mermaid Stained Glass
This video guide will help you to create your own stained glass mermaid. Get creative and take your project to the next level with this easy-to-follow tutorial. It is suitable for beginners, with a step-by-step approach that teaches you all you need to know about coloring on glass. Make this beautiful glass mermaid stained glass project with Mod Podge and clear glue. This is a great craft for beginners or those who love making quick and easy projects with the stained glass technique. There's no glass cutter needed, although it is recommended to have one around if you ever plan to make cut-out designs.
2-Ingredient Stained Glass
Crafting Supplies for Stained Glass
You need to be a little skillful in glass crafting to make good use of this video. But the result is worth it with the price. The dynamic presentation and friendly tone make you want to watch this video again and again. Even if you don't possess skills, you could learn cutting and shaping through the video. And once you have gained some basic knowledge, you can follow this step-by-step guide on how to build stained glass window frames. This video shows you how to combine different pieces of colored glass and assemble them in a beautiful stained-glass window. It may not be easy work, but if you have patience and a love for creating beautiful things, you're certain to succeed!
Self-Made Stained-Glass Design
Wall-Mounted Stained Glass
 Custom Stained Glass
If you desire to do your own stained glass project, this video tutorial is for you. This is a quick, easy and inexpensive way to customize the glass on any piece of furniture like a coffee table, cabinet, or desk. You can easily add your touch to any furniture by creating custom stained glass. This simple hack involves the use of a few basic ingredients. As the tutorial shows you how to apply and remove the design from its original assembly correctly, it is recommended you keep it ready for the next time you need it.
Stained Glass Artwork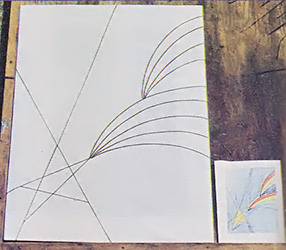 Genius Stained Glass Project
Stained glass is an amazing art form, and this project will allow you to create a beautiful piece to enjoy in any window or sunroom. You can customize color selection, size, and even the pattern design! Making your own stained glass window art has never been simpler than it is now with the Genius Stained Glass Project. This easy-to-follow guide will teach you how to create beautiful stained glass windows in the comfort of your own home, inexpensively and with minimal effort.
8. Stained Glass Paint Project
The specific instructions provide ample material to make your own stained-glass craftsmanship. The main focus is creating a home décor item with a touch of personal style while showing enough sparkle through special effects. It all starts with your choice of original design elements that you can use to assemble the correct tools or even enable that distinct look. Carefully follow the directions for applying paint on glass surfaces until the image is complete. Go over each step carefully for quality in the final product and safely handle any sharp edges or razor blades.
Beginner Level Stained Glass
Stained Glass for Beginners is a must-have for anyone looking to start crafting their first stained glass piece. No matter your skill level, this tutorial is designed for you as it starts with basics, progresses through intermediate and advanced techniques, and ends with tips on making your pieces look professional. This tutorial will teach you how to make stained glass from colored glass and lead-cobalt foil pieces. When finished, the window can be hung on the wall or mounted in a window frame for use as a decorative light fixture.
Colorful Stained Glass
Don't pay for the most beautiful stained glass to be made. You can achieve the same look for a fraction of the cost and at home. With a few materials, you can use your artwork as an accent or add cheerful color to any room in your home. Brighten up your home or office with this easy-to-create stained glass project. With a set of metal stained glass panels, some paint, and simple tools and techniques, it's surprisingly simple to create an ornate piece of art that will add charm and warmth to your room while catching the natural light just right.
Realistic Stained-Glass Window
Bring a stained-glass window to your home with this easy-to-assemble kit. Transform your plain window into a beautiful stained glass with this self-adhesive kit. This realistic stained glass design adds a touch of color to your home. With soldering iron and paint, you'll learn how to turn a plexiglass sheet into the finishing touch. Each activity is easy enough for anyone to complete; with the right tools and practice, you can have stunning windows in no time. The finished product will glow under light, making it a great addition to any room or office!
Mod Podge Stained Glass
Stained glass is so much more than a craft. It's a way to express yourself and make your home shine with color and light. This kit includes everything you need to make your own stained glass designs. Beginners can learn the basics of cutting glass and applying glue easily, thanks to easy-to-follow instructions by expert craftsman Joshua Step. Once ready for a bit more challenge, try out some of the stencil patterns included in this kit so your creativity can flourish!